Grow sheets
UNDER CONSTRUCTION!
First off, They are only carnivorous if they
-Lure Prey
-Trap Prey
-Kill Prey
-Absorb nutrience
Hear are some rules.
1- Lots of water!
2- Pure Water being Distiled OR reverse osmosis water OR rain water!
3- Lots of Light! (depending on the species)
4- Lots of root room!
5- No Nutrience in the nediums! or Foliar Fertalizers!
6- Medium Recomendations are Sterlized Play sand, Sphangum Peat, Sphagnum Moss, Perlite.
7- Depending on the species of plant, dormancy should allways be exercised
8- Humidity isnt a factor with most carnivorous plants!
Now to set aside some Myths! Not all carnivorous plants are tropical! Infact, North America Has the Most Carnivorous plant Species!
They Dont smell like rotting flesh!! I foud my Nepenthes Ventricosa, like this just the other day, and it smelt so sugary sweet with in about 2 feet of the plant! and you could faintly smell Sugar!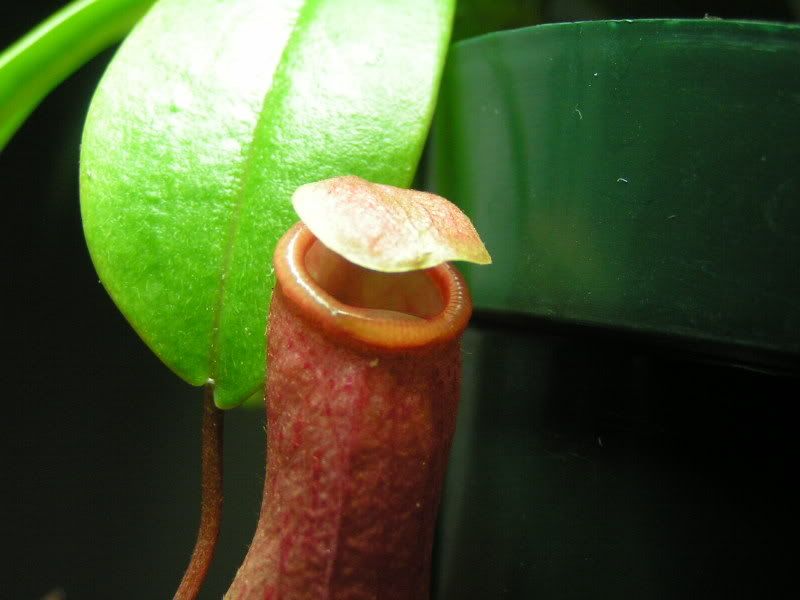 Now Tell me thats not wonderful!! They use that "goo" to attract insects! (it tastes sugary to)
They cant harm you! unless you were about 1 inch tall! And have no care that you might slip into a pit that you have no escape from, youre just hungry for some sugar!
They arent imposible to grow!

ON WITH THE GROW LISTS!
Venus Flytraps
Grow youre VFT's!!!
Youre venusflytraps will grow great in LOTS Of light, they will get that nice trap coloration most growers want! Give them lots of water, I sudgest a 6 inch pot (you can put 2 or three vft's in one of these), full of Peat, some use half peat half sand or perlite. I use strait peat in some and a mix in some I dont notice a difrence.

Use PURE water VFT's are very suseptable to hard minerals in tap water. Use Rain water, Reverse osmosis water from gallon jugs (make sure theirs no minerals added for taste), or distiling youre water. If you distil I sudgest flushing out youre pot every now and then wich is basicaly pouring lots of water on youre pot.

No fertalizer, or poking the traps.

give them a winter dormancy of at least 3 months, below 40* F never below 0* for more than a day, and protect youre Venus flytrap from freezing wind it will dehydrate youre plant!

Utricularia
UNDER CONSTRUCTION
Nepenthes
UNDER CONSTRUCTION